Wrong MTN Mobile Money Transfer
These steps will permit you to retrieve your money if you made a wrong mobile money transfer.

My heart just missed a beat... or two! I am pulling my hair from my head, literally. How does one retrieve money after an erroneous transfer? Read these steps and you shall be able to save your cash. First off, the retrieval shall take you at least three days and cost you some cash.
INTRODUCTION
Phones are more accessible these days. More than 90% of this generation will agree with me that they prefer accomplishing tasks through their phones or some other device. With the liberalisation of the internet in the 90s, with the production of cheaper and good (smart)phones, with the improvement in app technologies and cybersecurity, we have seen the advent of a new type of banking in the banking sector: mobile banking.

Now, what's mobile banking? Have a hunch? Let me hear what you have to say?... Well, simply, mobile banking is traditional banking through a mobile device. It's possible for one to open an account at a bank (which offers this service), and to manage this account with a dedicated app installed on their smartphones.

A majority of these apps can permit you to change your account password from within it, to withdraw or deposit money, and to twerk some other account related settings without having to meet your bank manager. Time saving and so much efficient, right? As with everything—and everyone— there's always a hitch. But we will not discuss that here. These days, network service providers move towards customers.
And because customers are mobile, these service providers' services must be mobile. Do you have an MTN or Orange sim card? If you do, then you probably have a Mobile money account or an Orange money account. If not, read my article on their creation.

1. If you transferred this money from your phone
What should you do when you transfer money mistakenly to an individual's mobile account? The first thing to do is to stay calm. The ideal step to take is to call your donatee, dear benefactor. But, what if your donatee doesn't respond favorably either by avarice or fear of being scammed? That's why I advise you to call your network service provider first, before calling your donatee.
Call 7123, if you are on MTN. Call 950 if you are on Orange. While on the call, stay calm through their promotion bot, and follow the instructions. You should press the required key to speak to a customer service agent. When the customer service agent picks the call, be specific: "I just transferred money to a number by mistake. I want that account frozen while I go to the authorities to clarify this". Obviously, the agent will require information such as the amount transferred, the date and time of transfer, the account name (yours and your donatee's).
This process should give you some relief, and you should head to a police station to file an official report demanding for an authorization for your network provider to withdraw your money from that account. This authorization shouldn't cost above 2000 frs. When you receive this authorization, go to your network provider's agency with it. Your money should be refunded within 48 hours.

---
Once this authorization is submitted at MTN, you should receive a message like the one in this image below.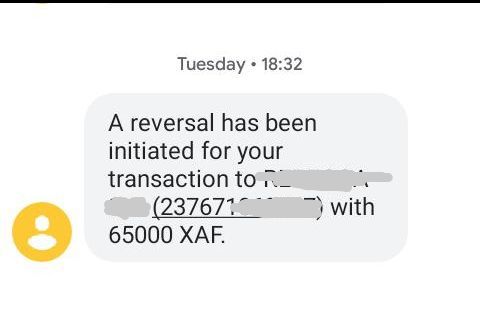 You should be refunded the day following the arrival of the message in the above image. This is the message you should receive: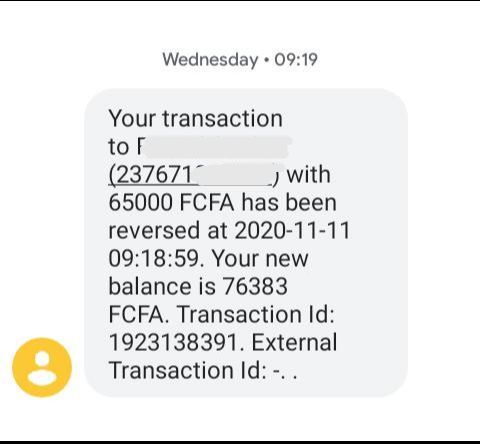 ---
Important notice
If the amount is above 50.000frs, you will be required to bring a court order. This court order in Buea costs 10.025frs, as of today, this article's publication date. Under normal circumstances, you will receive the Court order the same day you make the payment. After the court order is available, you will need to hire the services of a bailiff, not a lawyer, because MTN receives this document only through a bailiff's hand. The standard fee for hiring a bailiff for such cases is 10.000frs. Luckily, this fee could be negotiated to 5000frs.
2. If you made the transfer from a kiosk or booth
Oh boy, things become more complicated. But not impossible. They become more complicated because you will have to include a third party who may not be available. Do the steps mentioned above: