Winning money with betting
Betting is the new work-from-home trend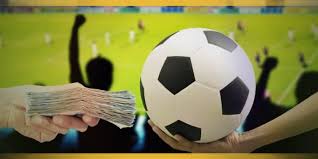 Working from home is the new trend, and the idea of 'soft work' is so appealing to the majority of us. If you intend on making money out of sports betting (football in particular), efforts and time are needed to be successful—just as in every regular job or business. Below, in no particular order, are a few points to take into consideration if you want to be able to make profits on football betting.
Understand the game
To win money through betting, try as much as possible to understand the rules of the game, they are the core of every bet. For example, I only bet on football games because I know and understand the game.
Know Betting Rules and jargon
To win money through betting, know betting's rules and its jargons, which should avoid you betting on events mistakenly. Study (don't just read about it) each event before you place a bet. Equally, you should understand that betting rules vary with bookmakers. 1xbet's rules won't necessary be same as Koolbet's.
Seek information
As in any business, being à jour is puts you at a vantage point. With betting, you need to have a fair knowledge of the football world where you operate. Consequently, for both teams, you need to have information about teams' lineups, transfer, staff, and you need information on the officials of the match like central and corner referees.
Don't be emotional
If you are, for example, a big supporter of current day Monaco, you should be objective and put your emotions aside when betting in a match where they are up against P.S.G. You should think twice before putting your money on Monaco because the probability is high that Monaco will not overcome P.S.G in their current team and form, since P.S.G is by far the better team.
Be disciplined
Avoid too many risks. This regards the number of games for your accumulated bet and the odds of events. The higher the number of games you put on a bet, the lower your chances to see that bet win, thus it is advisable to place bets on fewer games. Don't chase odds, play safe. Always put many chances on your side. For example, bet Double Chance: either the outcome of the game is a win or a draw for the team that you placed your bet on. Tip: choose a safe game and bet high, than accumulate matches and betting low.
After a loss, try as much as possible not to place other bets with the intention to cover up for the loss you just suffered. This is because you may lose your objectivity and lay unanalyzed risky bets—which may end in other losses— just to cover the other losses. Be levelheaded.

Pay close attention while betting on live matches, since bookmakers have a better and clearer knowledge on the ongoing game than you do, I think. They follow the games live and know which team is pressing the other. This is the reason for fluctuating odds during matches.

Don't keep much money in your online betting account. If you do, it may push you to lay bets on meaningless and risky events, because you have much money in your account. You will find out that you might make losses of small amounts of money because you had enough money in your account; and in the long run, you will end up losing a huge amount, which is the sum of multiple 'small monies'.

Track the outcome of your bets by making a table of your wins and your losses. Create an Excel file or a table in a Word file where you will record your bets: amount spent, matches, wins, draws, losses and amount won. If you are on a winning streak, you will be motivated to maintain your betting formula or habit; but if you are on a losing streak, this will make you to restrategize.

Invest money
If you have to make money, you'll need to invest money. It will be better to invest 25,000 FCFA, which is the maximum amount per bet on betmomo.com to win 50,000 FCFA than to place a bet of 1000 FCFA to win 100 000 FCFA because it will take a lot of luck to pullout a win in such a bet. Stake high on low, but sure, odds.
I hope these tips relevant to you. Note that if you intend to make money on sport betting, you need to start seeing it like a business and start thinking like a businessman. Every action should be thoughtful. Proceed in your betting business as you would with regular businesses so as to have a chance of making some steady money in the long run.
Recommended sites: betrush, betshoot, windrawwin, leaquelane