UB101, My First Year in UB
A fresher, but not a fresher

I wish to congratulate you on your successful completion of your previous educational level and on your admission into the University of Buea (UB), the place to be. As it is your first year in UB, you are a "fresher"— fresher is an affectionate term used in UB to designate all newcomers, without distinction of their level: UG or PG.
As a new or returning student of UB, there are things that you need to know and to do before being the full fledged student that you ought to be.
Regularly visit the University's website and Facebook page for updates. Download the official Student's guide here. The deadline to pay your student registration fee is the 17th of December, 2020.
What you will read:
Certification of Documents
Matriculation
Course Registration
Course Status
Student ID Card
Calendar of Activities
Student Association
Clubs
UB Team
Student Restaurant
---
1. CERTIFICATION OF DOCUMENTS
As a fresher, you're expected to submit, at the secretariat of your department, (2x) certified photocopies of your all your certificates, attestations and birth certificate. Only your Undertaking form should be certified at a police station. The other documents should be certified either at the SDO's office or the Governor's office.
Commonly, students certify only these:
GCE Ordinary Level
GCE Advanced Level
Birth certificate
Undertaking form (from their Department)
First Degree (where applicable)
Masters Degree (where applicable)
---
2. MATRICULATION
Matriculation is an obligatory ceremony that confirms your status as a student in your department. Unfortunately, this year's matriculation ceremony was annulled. However, students are expected to attend at least one matriculation ceremony before they graduate. PS: after the matriculation ceremony at Open AMPHI each year, students must inscrib their names on their Department's list.
---
3. COURSE REGISTRATION
Courses are registered online. Before registering for your courses online, you must create a student account. In order to register your courses online, click here, login to your student account with your matricule and password, head to Course registration, register the courses required for this semester.
---
4. COURSE STATUS
There are Compulsory courses, Elective courses and Required courses. Required courses are Use of English (ENG101 & ENG102), Functional French (FRE101 & FRE102), Civics and Ethics (CVE100), and SPT100. Undergraduate students must offer and validate each of these courses at least once before they graduate. For issues related to ENG, FRE, CVE, SPT courses, go to the English department (UNESCO Building), to the French department (UNESCO Building), to the CVE coordinator (Faculty of Education) and to the Sport unit (Student Restaurant) respectively.
---
5. STUDENT ID CARD
The University of Buea is a system on its own, and requires a student ID card in most administrative dealings. This ID card, in certain circumstances on campus, may serve you more than would your national ID card. You need it to access the Main Library (it doubles as your Library card) and your examination halls. Go to the rear of UB's Main Library to have yours made. If you are not issued this card during your first year, you will never have it. If you lose it, you will have to pay 5000 frs (only if you had one) for another card. Find below related details: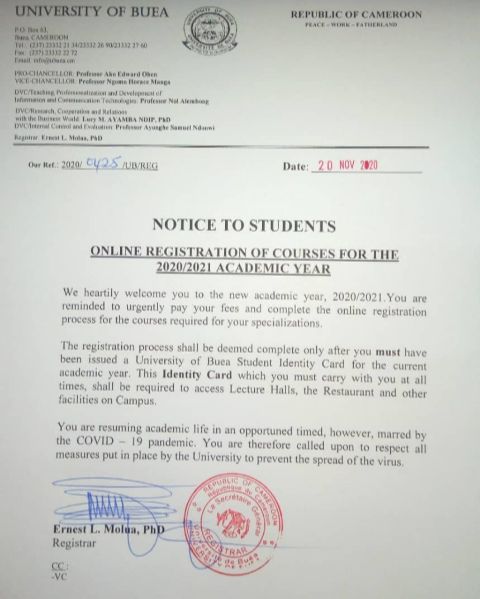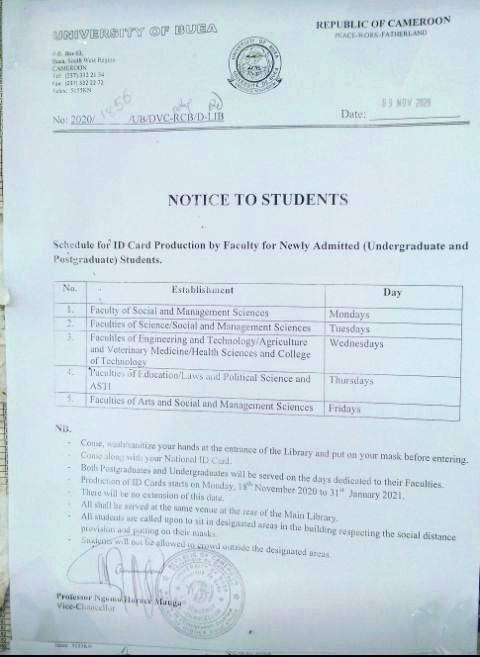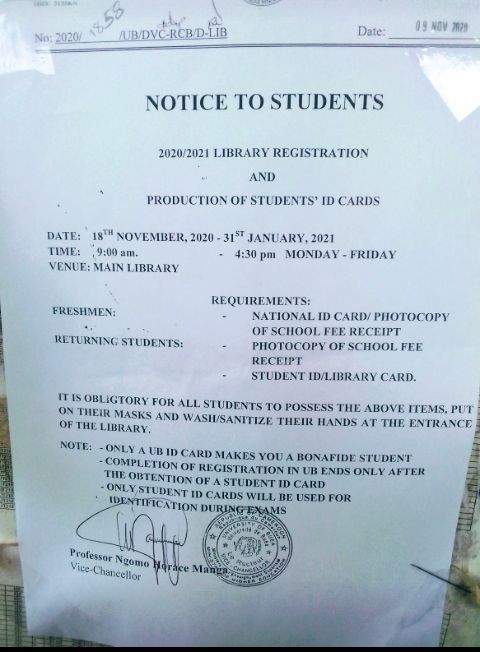 ---
6. CALENDAR OF ACTIVITIES
The school has a calendar of activities on which dates and deadlines of yearly activities are inscribed. However, these dates may be changed based on circumstances. Try to be informed as regularly as possible.
---
7. STUDENT ASSOCIATION
Each Department, Faculty has a student executive body. All students can be part of this association, however, there are are certain requirements–like GPA standing–to be met for certain positions as the position of president.
---
8. CLUBS
There are a number of clubs to which a student may adhere like the Debate club. Clubs, at the beginning of the academic year, send out Calls for membership.
---
9. UB TEAM
The school has a team for each sporting discipline and other activities. These teams take part in competitions and are open to all students.
---
10. STUDENT RESTAURANT
The University of Buea, as well as all eight public universities in Cameroon, has a Student Restau that has a daily menu and serves a plate of food at 100 frs. You will havd to present a student ID before you will be served.